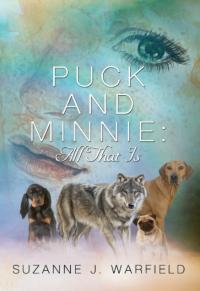 It all begins a thousand years ago on the flats of Africa and follows a primitive dog as he makes life-altering decisions not just for himself but for the human with whom he develops a bond. This union remains inviolable as Puck's soul passes from one life to the next.
Puck's story is as spiritual as it is terrestrial. His earthly visits are interwoven with returns to The Bridge and Azul, the latter a divinity who advises Puck but does not predetermine his actions—or his fate.
PUCK AND MINNIE offers a poignant view of fear's role in fomenting hate, and shows love possible even under the most demanding of circumstances. It's a story that may open your mind and soul to the possibilities of the question of what if the animals of this planet are indeed, divine beings here to teach and guide us into the Heart of God, which we know as All That Is…and All That is, is Love.
"Masterfully done, intrigue, emotions, haunting storyline, beautiful lesson in spirituality. I so loved this book! (Amazon reviewer)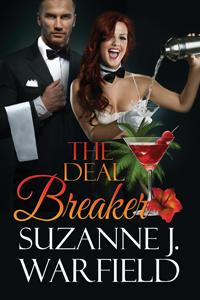 The Deal Breaker incorporates a cast of colorful characters who work in and love The Carriage House restaurant, a long-established, fine-dining establishment in New York State. When The House burns as a result of arson, the staff is horrified and full of questions, but none more so than Kitty Cunningham, The House's bartender, and the debonair maitre'd/part owner, Tommy Defalco, whose smooth, charismatic personality conceals serious flaws. Tommy operates The House under a series of rules he calls "Deals," one of which he breaks himself when he falls in love with Kitty and pulls her into a dark and mysterious lifestyle with his past lover, Lillian Mondale, who owns the local country club, and her partner, renowned surgeon John Vassar. Mildred Vassar, John's wife, is a regular at the Carriage House, and she knows all too well about her husband's nefarious side business. She becomes concerned when she learns that her two favorite friends, Kitty and Tommy, are dangerously close to her husband. Suspecting that their lives are in peril, she whisks them off to her Palm Beach Villa, the last place she believes her husband or Lillian will ever look for them. It is there, however, that Kitty and Tommy discover each other's secrets--and their lives are changed forever. The Deal Breaker is story of love, hate, treachery, betrayal, lust, greed, and redemption, as the storyline takes the human condition full circle and teaches some hard but vital lessons.
"What a great book, a real page turner. I recommend this book to anyone, so well written and the characters are so well-developed. What an amazing book." (Amazon reviewer)